The following buttons take you to ...
You know how the Nintendo 3DS has a HOME button? Well, if you push it, then choose to view the Manual, it tells you a lot more about SmileBASIC.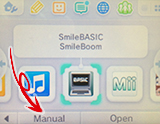 Whenever you want to go back to SmileBASIC, just press the HOME button. Then you can resume SmileBASIC from where you were when you opened the manual.